Smart Accurate Digital Bathroom Body Composition Bluetooth Weighing Machine for People's BMI, Million-User App Offers Diet & Exercise Plan, 400lb
CHICAGO — Ring in the end of the month with a taco feast taking over the Southport Corridor, a gathering of 40 pizza makers at the Salt Shed, a free Latin music concert at Jay Pritzker Pavilion and so much more.
Here's a roundup of 23 things to do in Chicago this weekend: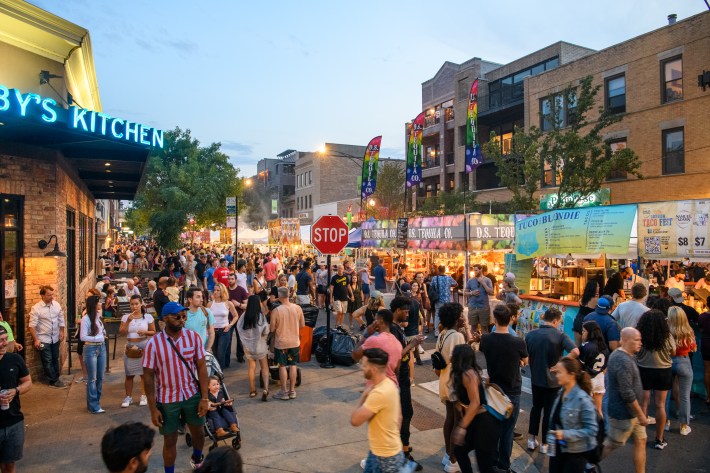 11 a.m.-10 p.m. Saturday-Sunday
3500 N. Southport Ave.
Taste gourmet tacos from more than a dozen local eateries and catch live Lucha Libre wrestling in the streets of Lakeview this weekend. There will be seasonal beers, live bands on two stages, kids' activities and a "Best Taco" contest. Vendors include Tuco & Blondie, Tikka Masala Taco House, Barcocina, Cabos Tacos, Enrique's Place and more. A $10 suggested donation benefits the Friends of Lakeview.
Doors open 2 p.m. Friday-Sunday
The Nursery, 1800 W. Lake St.
Celebrate all things cannabis at this first annual Cultivate Festival. There will be food trucks, vendors, cannabis education and a diverse lineup of musical performances. Cultivate takes places at The Nursery, a pop-up venue near the Green Line stop. Tickets start at $50 online for one-day general admission. Buy yours here.
10-11:30 a.m. Sunday
Park 538 in West Rogers Park, 6426 N. Kedzie Ave.
Take a guided tour through a restored natural prairie in West Rogers Park, with lush greenery, rustic hiking trails and riverbank habitats. This family-friendly activity features a scavenger hunt, nature walk, seed giveaway and gardening tips. Explorers convene at the southwest corner of Touhy and Kedzie avenues. Admission is free, but advance registration is required. Register here.
1-10 p.m. Saturday
Thalia Hall, 1807 S. Allport St.
Take to Pilsen's Allport Street for a day of music, food, drinks and local vendors, including Dusek's, Latin America Cravings, Pinwheel Records, Semillas Plant Studio and more. The event is free and open to all ages. A $5 suggested donation will benefit the Pilsen Food Pantry.
1-5 p.m. Saturday-Sunday
The Salt Shed, 1357 N. Elston Ave.
The second annual fest brings together 40 of the region's best pizza makers for a weekend of food, demos, speaker panels and music. Find the full lineup here. One-day general admission tickets are $95 for adults and $65 for children ages 4-10. Children 3 and younger get in free with a ticketed adult. Tickets must be purchased in advance online.
9 a.m.-3 p.m. Saturday
Morgan and Fulton Market, 300 N. Morgan St.
CheckeditOut is an inner-city gathering for motorheads, "injected with a dose of Chicago soul." Enjoy neighborhood dining, retail and DJs while browsing some 300 Porsches on display. The event is free for spectators. Learn more online.
Noon-5 p.m. Sunday
Hyde Park Art Center, 5020 S. Cornell Ave.
Hyde Park Art Center and Gilda's Boutique are hosting an outdoor flea market featuring vintage goods, fashion, art, furniture, jewelry and antiques.
8 p.m. Friday
Schurz High School – Great Lawn, 3601 N. Milwaukee Ave.
Watch "The Super Mario Bros." under the stars during this Schurz High School family movie night. Admission is free and concessions will be available for purchase.
Noon Saturday-2 a.m. Sunday
2100 N. Hoyne Ave.
There will food, vintage shopping, treats and more at this Hoyne Avenue block party; attendees are encouraged to bring cash. DJs Blesstonio, Mo Mami and Jordan Martin will be there. The block party ends on the streets at 10 p.m. and will then move inside the Charleston, 2076 N. Hoyne Ave., for the rest of the night.
6-9 p.m. Saturday
Jay Pritzker Pavilion, 201 E. Randolph St.
Enjoy a free, pop-up concert of Latin music this weekend. The cross-cultural repertoire includes Puerto Rican Bomba and Plena music and performances by groups like the Mexican Folkloric Dance Company. The free event is hosted by the Puerto Rican Arts Alliance, Cuerdas Clásicas, AfriCaribe and the Chicago Philharmonic.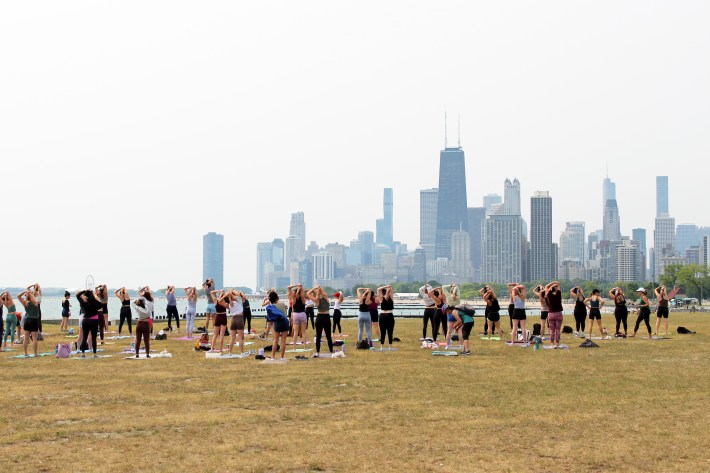 8:30 a.m.-12:30 p.m. Saturday, 10 a.m.-noon Sunday
Various locations throughout Lincoln Park
Try out free fitness classes at some of the neighborhood's top studios and browse local businesses specializing in health and wellness during this two-day event hosted by the Lincoln Park Chamber of Commerce. There will be exclusive promotions, health assessments, interactive experiences and a donation drive supporting local food pantry Care for Friends. Register for classes like Summer Bootcamp, Mat Pilates and Vinyasa Flow online.
10 a.m.-3 p.m. Saturday
Start at Humboldt Park field house, 1440 N. Humboldt Blvd.
Join the Chicago Writers Association (CWA) and explore hidden gems of the city's literary history, including Walt Disney's birthplace and childhood home, the location that inspired Sandra Cisneros' first novel and the residence where L. Frank Baum wrote "The Wonderful Wizard of Oz." Tickets are $10 for Chicago Writers Association members and $15 for the general public. Buy them online.
11 a.m.-11 p.m. Saturday
600 E. Grand Ave.
At one of Chicago's newest drink festivals, you can enjoy a variety of takes on the classic Old Fashioned cocktail — made with whiskey, tequila, brandy and scotch — along with small bites and live music. Tickets start at $30 online.
Lessons at 7 p.m., dancing at 8 p.m.
3057 N. Rockwell St. – Building 5
Grab a cowboy hat and pardner up for a queer two-step night hosted by the Queer Social Club and Local Universe. Two-step dance lessons kick off at 7 p.m. Spirits and cocktails will be available at the bar and a live band will get you swaying and scooting across the dance floor. Tickets start at $10 online.
Doors open 6 p.m. Saturday, show starts 7 p.m.
Metro, 3730 N. Clark St.
Catch performances by Chicago-based bands Motel Breakfast, OK Cool and Neptune's Core, which is celebrating the release of its EP "Called Upon." Tickets are $15 in advance and $20 on the day of. Get yours online.
1-4 p.m. Saturday
Big Marsh Park, 11555 S. Stony Island Ave.
Chicago-based skate collective froSkate is hosting a meetup for skaters and BMX bikers. There will be beginner clinics and $15 bike rentals.
7:30-9:30 p.m. Friday-Saturday
Women & Children First, 5233 N. Clark St.
The Valkyrie Ensemble and Ouroboros Opera present a production of the famous "La Femme Bohème" opera, featuring a mostly femme cast. Catch this timeless tale presented as a celebration of lesbian romance and queer community in one of Chicago's oldest feminist bookstores. Tickets are $25 online.
1-7 p.m. Sunday
Kenwood Gardens, 6929 S. Kenwood Ave.
Celebrate the godfather of House music Frankie Knuckles and his legacy with live house music sets, food, wellness and more. Local vendors will be selling food and drink, and there will be a pop-up market for local creative and wellness entrepreneurs. RSVP online.
6-10 p.m. Sunday
The Duplex, 3137 W. Logan Blvd.
Catch a free performance of live salsa music by the Humboldt Park Orchestra Salsa Band. There will also be a cocktail bar for the first hour and, for $45, you can enjoy a plated Cuban feast. Register for the show and purchase dinner in advance online.
7:30-9:30 p.m. Friday
Three Avenues Bookshop, 3009 N. Southport Ave.
Lakeview neighbor and musician Zack Frank will host an open mic at local bookshop Three Avenues. Attendees are invited to share poetry, comedy, songs, stories and more. The event is BYOB, and there will be snacks. Anyone interested in performing should register online.
8 a.m.-2 p.m. Saturday
CBR, 505 N. State St.
CBR restaurant is celebrating National Dog Day with a special menu for pups, which includes a Greek yogurt puppy parfait, charcuterie board, sweet potato hash and watermelon and yogurt pup-sicles. You can also meet (and adopt) pups from Chicago Canine Rescue from noon-2 p.m.
1-8 p.m. Saturday
Gallagher Way, 3635 N. Clark St.
Wind down August with an end-of-summer wine tasting event. There will be live music, photo opportunities, lawn games and more. The event is free and open to the public. Wine tasting passes are available for purchase for $40 in person or $44 online. Online orders come with an additional "charcuterie pack."
3-7 p.m. Sunday
Ogden Park, 6500 S. Racine Ave.
Relive your childhood memories at this fifth annual family fun day at Ogden Park. There will be jump roping, bounce houses, face painting, snacks and more. The event is free; RSVP here.
PLUS: Three Picks From Our Partners At
7:30 p.m. Friday
Wrigley Field, 1060 W. Addison St.
Experience a sensational night of music as the Jonas Brothers bring five albums to life under the stars.
8 p.m. Sunday
United Center, 1901 W. Madison St.
Experience the electrifying energy of Arctic Monkeys on their summer 2023 North American tour.
6 p.m. Sunday
Concord Music Hall, 2047 N. Milwaukee Ave.
Prepare for an unforgettable journey into the world of Earth's most unique pro wrestling company.
Watch our "On The Block" TV show on The U, CW26 and MeTV.
Listen to "It's All Good: A Block Club Chicago Podcast":
TRACK YOUR FITNESS: LCD monitor measures the steps time total and calories, making your exercise more reasonable and effective.
Source link